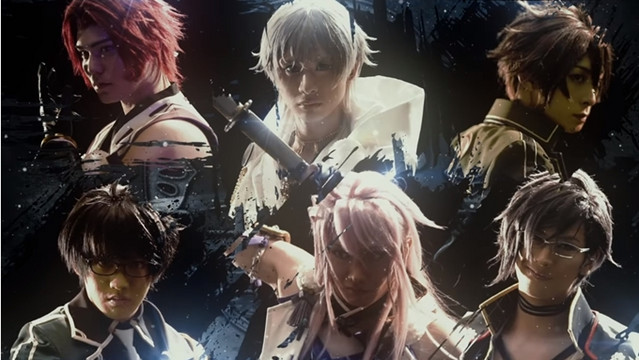 The official website for the musical adaptation of Nitroplus and DMM Games' collectible card browser
video game Touken Ranbu has posted a key visual and a 60-second teaser PV for its upcoming yet-titled
new show to be performed in Japan from August October 2019, introducing its six main cast members.
The musical series started its run in October 2015, and has produced six shows.
Main cast:
Akashi Kuniyuki: Hiroki Nakada (31/Tasuku Senoo in Prince of Stride The Live Stage)
Sengo Muramasa: Motohiro Ota (32/Sunsuke Imaizumi in Yowamushi Pedal stage plays)
Tonbokiri: spi (31/Taisuke Otsubo in Kuroko's BAsketball stage plays)
Tsurumaru Kokunaga: Kurumu Okamiya (20)
Otegine: Ryosei Tanaka (Sadaharu Inui in The Prince of Tennis musical)
Kotegirigou: Shogo Tamura (20/Hinohikari in RICE on STAGE Love Rice)
ミュージカル『刀剣乱舞』 2019年秋新作公演
メインビジュアルと出演者、公演日程、チケット情報を公開いたしました。https://t.co/t5wn6auTXp#刀ミュ pic.twitter.com/d5CQxHAoq8

— ミュージカル『刀剣乱舞』公式 (@musical_touken) 2019年4月16日
Teaser PV
Schedule:
August 3 – 18, 2019: The Galaxy Theater (Tokyo)
August 30 – Spetember 8, 2019: Sankei Hall Bleeze (Osaka)
September 14 – 28, 2019: AiiA 2.5 Theater Kobe (Hyogo)
October 4 – 6, 2019: Harmony Cinq Kita Kyushu Soleil Hall (Fukuoka)
October 19 – 27, 2019: Tokyo Dome City Hall (Tokyo)
Advance sale of the 9,000 yen ticket will begin on June 23.
ミュージカル『刀剣乱舞』2019年秋新作

公演スケジュール、チケット情報は、ネルケプランニング公式サイトでも公開しております。#刀ミュhttps://t.co/95GQDNFWiz pic.twitter.com/NO9hpYs2VQ

— ミュージカル『刀剣乱舞』公式 (@musical_touken) 2019年4月16日
---
Source: Musical "Touken Ranbu" official website / Twitter
©︎Musical "Touken Ranbu" Production Committee