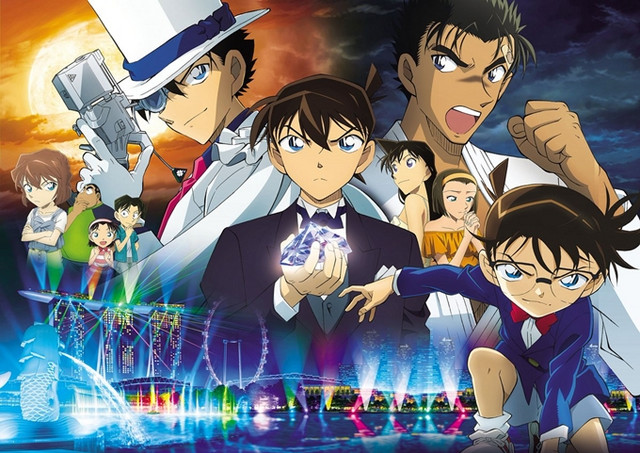 As expected, the 23rd Detective Conan feature film Konjyou no Fist/The Fist of Blue Sapphire dominated
this weekend's box office in Japan. It earned an impressive 1.464 billion yen on 1.145 million admissions
in its first Saturday and Sunday, which was the highest record in the franchise and 113% of the previous
22nd film Zero the Enforcer's record (1.296 billion yen) one year ago.
The 110-minute film was released in 363 theaters across Japan on April 12, Friday, and made 1.886 billion
yen, which was 188 million yen more than Zero, from the 1.458 million tickets sales in its first three days,
Friday through Sunday. The Conan film series has been breaking its opening weekend box office record for
six consecutive titles since its 17th film Private Eye in the Distant Sea in 2013.
It is certain that The Fist of Blue Sapphire will renew the franchise record again, surpassing the current
top-grossing record of 9.18 billion yen by Zero. And even there is a possibility that it will reach the 10
billion yen milestone.
The Fist of Blue Sapphire also finally stopped the box office domination by Doraemon: Nobita's Chronicle
of the Moon Exploration that had topped the Japanese box office for six consecutive weeks. Meanwhile,
the Doraemon anime franchise's 39th feature film had earned 4.69 billion yen from its seven-week domestic
run and has become the top-grossing Japanese film of this year surpassing 46-year-old idol Takuya Kimura-
starring mystery Masquerade Hotel with 4.58 billion yen.
---
Weekend box office in Japan (April 13-14, 2019)
(ticket sales basis)
1 (new). "Detective Conan: The Fist of Blue Sapphire" – 1.88 billion yen
2 (1). "Doraemon the Movie 2019 Nobita's Chronicle of the Moon Exploration" – 4.69 billion yen
3 (new). "Hunter Killer"
4 (2). "Dumbo" – 590 million yen
5 (3). "Tonde Saitama" – 3.3 billion yen
6 (4). "Captain marvel" – 1.72 billion yen
7 (new). "Halloween"
8 (9). "Green Book"
9 (8). "PreCure Miracle Universe" – 820 million yen
10 (4). "Bumblebee" – 720 million yen
"Detective Conan: The Fist of Blue Sapphire" trailer
---
Source: Eiga.com
©2019 Gosho Aoyama/Detective Conan Production Committee