Midsummer Lovers' Tale Campaign Launches for DanMachi: MEMORIA FREESE Game
HOORAY! A new campaign has just launched for the Crunchyroll Games sensation known as DanMachi – MEMORIA FREESE! Midsummer Lovers' Tale offers tons of new summer-themed features and bonuses that you will want to dive into ASAP.
DanMachi: MEMORIA FREESE puts players right in the middle of Orario and gives them the opportunity to take on the infamous DanMachi dungeon for themselves. Character dialogue and other features change dynamically depending on when you play, and you'll be able to unlock plenty of new skills just like Bell, Ais, and the rest of the cast did in the anime series. Speaking of which, all the original voice actors are here to reprise their roles, and Memoria Freese features exclusive stories written by series creator Fujino Ōmori!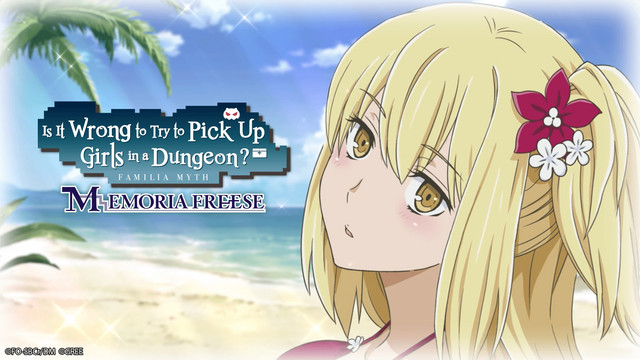 Here are some of the highlighths of the Midsummer Lovers' Tale campaign!
New Units
★4 Hestia, ★4 Ais, ★4 Liliruca, ★4 Lefiya, ★4 Amid, ★4 Misha will be added. (All are limited.)
*The skill of Ais and Liliruca is brand-new, which change the length of Buff/Debuff on foes.
*Amid can enhance the damage of water magic and these limited units use water magic.
Come Back Login Bonus (7/31-9/2)
Users whose last login is 14 days before can get Iris x100 and 4★ Gtd. Gacha Ticket Day1:Over 2★ Gtd. Gacha Ticket/ Day2:Irisx50
Day3:Over 2★ Gtd. Gacha Ticket/ Day4:Irisx10 Day5:Over 2★ Gtd. Gacha Ticket/ Day6:Irisx10 Day7:Over 3★ Gtd. Gacha Ticket/
Day8:Over 2★ Gtd. Gacha Ticket/ Day9:Irisx10 Day10:Over 2★ Gtd. Gacha Ticket/ Day11:Irisx10 Day12:Over 2★ Gtd. Gacha Ticket/ Day13:Irisx10 Day14:4★ Gtd. Gacha Ticket
Midsummer Lovers' Tale Login Bonus (7/31-8/22)
You can get Iris x100 and Hero Farna x3
Day1 Hero Farna×1/ Day2 Irisx50
Day3 Hero Farna×1/ Day4 Valis×100000 Day5 Irisx10/ Day6 Valisx100000
Day7 Irisx10/ Day8 Valisx100000
Day9 Irisx10/ Day10 over 3★ Gtd. Ticketx1 Day11 Irisx10/ Day12 Valisx100000
Day13 Irisx10/ Day14 Hero Farna×1
Interactive Mode
Amid added.
Alarm Clock
Chigusa and Amid added.
Add EX stage to Farna, Valis, and Excilia quest (7/29-)
Currently, we have NORMAL, HARD, and VERY HARD stage in these Boost quests.
Stronger enemies but there are more dropped items you can get!
Gnome Ticket Shop Added (7/30-)
Now you can change the Gnome tickets you earned during Grand Day event.
Gnome Ticket x200…"Draw 11" Gacha Ticket Gnome Ticket x500… 4★ Gtd. Gacha Ticket Gnome Ticket x1000…Prism Bond (Ad.) Gnome Ticket x1500…Prism Bond (As.)
MEMORIA FREESE is available in the United States and Canada for now. Follow the download links below to dig in:
Unfamiliar with the Is It Wrong to Try to Pick Up Girls in a Dungeon? story, or just curious about all the hype?