DOUBLE DECKER! Doug & Kirill, New TV Anime from the World of TIGER & BUNNY Officially Set for Fall 2018
Three months after its initial announcement in March, the official website for DOUBLE DECKER! Doug & Kirill, a new buddy cop anime drama set in the same world with TIGER & BUNNY, confirmed today on July 5 that it is officially set to premiere both on TV and streaming in the fall of 2018. And the world's first advance screening event for its first two episodes with a stage talk show will be held as a program in the "Sunrise Festival Kouen 2018" event on September 2, 2018.
Back in January 2018, the "new buddy" series was announced by Sunrise, along with a "new series" of TIGER & BUNNY. So far no new announcement for the latter has been made.
【最新情報!!】オリジナルアニメ「DOUBLE DECKER! ダグ&キリル」2018年秋TV放送&配信スタート決定!! https://t.co/jmMRBuqrEb #dabudeka

— DOUBLE DECKER! ダグ&キリル (@dabudeka) 2018年7月5日
In addition to the previously announced two leads, Satoshi Mikami (Japanese dub voice of Benedict
Cumberbatch) as Douglas "Doug" Billingham and Kouhei Amasaki (Uno Takaki in Mobile Suit Gundam:
Iron-Blooded Orphans) as Kirill Vrubel, four more voice cast members are also announced.
Deena Del Rio: Saori Hayami (Ayase Aragaki in Oreimo)
Catherine "Kei" Rochefort: Chika Anzai (Reina Kousaka in Sound! Euphonium)
Maxine "Max" Silverstone: Yo Taichi (Nino Nijiiro in Idol Time Pripara)
Yuri Fujishiro: Atsumi Tanezaki (Chise Hatori in The Ancient Magus' Bride)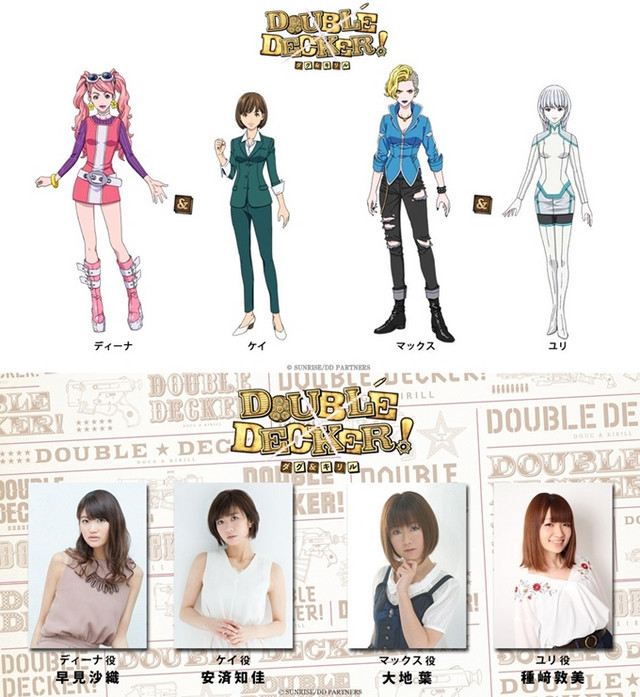 更に2組のバディ刑事が登場!ディーナ(cv:早見沙織さん)、ケイ(cv:安済知佳さん)、マックス(cv:大地葉さん)、ユリ(cv:種﨑敦美さん) 『DOUBLE DECKER! ダグ&キリル』公式HPにてコメントも掲載中!メインスタッフも公開!! 詳しくはこちら ⇒ https://t.co/S2u5mX6xWn #dabudeka pic.twitter.com/7kpaLDu9hj

— DOUBLE DECKER! ダグ&キリル (@dabudeka) 2018年7月5日
Main Staff:
Director: Takeshi Furuta (Uta no Prince-sama Maji Love Legend Star)
Series Composition/Screenplay: Tomohiro Suzuki (One-Punch Man)
Screenplay: Erika Yoshida (TIGER&BUNNY)
Main Character Design: Masakazu Katsura (Video Girl Ai, ZETMAN)
Anime Character Design: Tokuhiro Itagaki (TIGER & BUNNY: The Beginning/The Rising)
Music: Yuuki Hayashi (PreCure series, My Hero Academia)
Planning & Anime Production: Sunrise
ダグ・ビリンガム役は三上哲さん、キリル・ヴルーベリ役は天﨑滉平さん! お二人ともアニメ作品初主演です!

AnimeJapan 2018で初披露となるPVでは、林ゆうきさんによる音楽と、ダグとキリルの声もお聴き頂けますので、ぜひバンダイナムコブースへお越し下さい。https://t.co/S2u5mX6xWn #dabudeka pic.twitter.com/AQllekZHxD

— DOUBLE DECKER! ダグ&キリル (@dabudeka) 2018年3月16日
Source: "DOUBLE DECKER! Doug & Kirill" official website
© SUNRISE/DD PARTNERS