From Zero Two Hiro: The Creation of Something New in DARLING in the FRANXX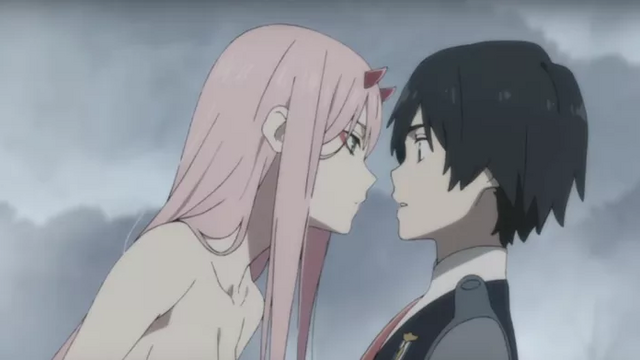 Who's who and what's what are a major part of DARLING in the FRANXX, as we wind our way through erased memories and cloning and where babies come from. But no matter where things go, the unique relationship between Hiro and Zero Two always remains at the center.
There is, as the academics say, "a lot to unpack" when it comes to the couple, their synergy, and their shared past. But when it comes to their childhoods and their eventual re-meeting, their story bears a lot of similarities to a much older legend. Even though it may not be the source of our answers and payoff, it's still something we see grow as the story progresses.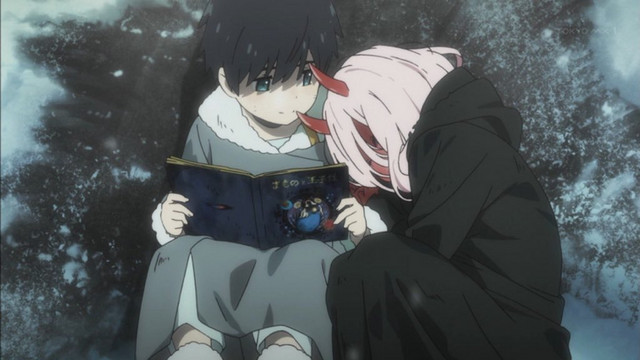 The meeting between the young Hiro and Zero Two created a whole new series of questions mid-series. But it also goes a long way toward explaining the pair's inexplicable draw toward each other, as well as their growing similarities. The two share memories over a book about a prince and a monster. But to really understand what's happening to them, we can look to another fairy tale not so different from Hiro and Zero Two's picture book…
Just So Stories is a collection of the origin stories of unlikely animals and "The Beginning of the Armadillo" bears a resemblance to Hiro and Zero Two's own tale. It can be found in any collection of the stories online, but in short: A tortoise and a hedgehog are both hunted by a jaguar cub, who has learned how to tell the two apart and knows the special ways in which he must attack them in order to get past their defenses and eat them. To thward the jaguar cub, the tortoise teaches the hedgehog to swim, and the hedgehog loosens the tortoise's shell-plates and teaches it how to curl up. By the time the jaguar cub has found them both again, the pair have become something entirely new: armadillos, possessing the hedgehog's ability to curl up for safety and the tortoise's impenetrable shell.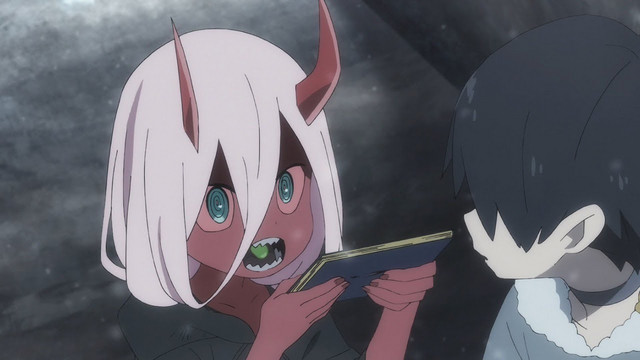 Following its original intent, the story was meant to be a bit of modern (at the time) mythology explaining the existence of a very weird-looking animal. But it also serves as a metaphor for what happens to two very different people when they join forces, especially for survival: each takes on aspects of the other, becoming something new and different in the process.
Hiro and Zero Two were already, in their own ways, very different from their peers. Zero Two's differences were right there on the surface: a Klaxosaur hybrid who looked only somewhat human, couldn't speak, and was unaccustomed to affection. Hiro's differences were emotional, but still made him stand out: someone who showed and taught kindness, even to the point of creating names so that others could feel more human.
One who's all fight and no affection, and one who's all affection and very little fight. Even if we ignore the series's constant references to one-winged birds, and even ignoring Hiro ingesting some of Zero Two's blood, there's a fairly high chance that these two would end up experiencing a mutual evolution. Like the tortoise and the hedgehog, they lend each other their survival tactics — except in this case it's the ability to pilot a FRANXX or the ability to "be human."
But there's a down side to this, depending on how you look at it.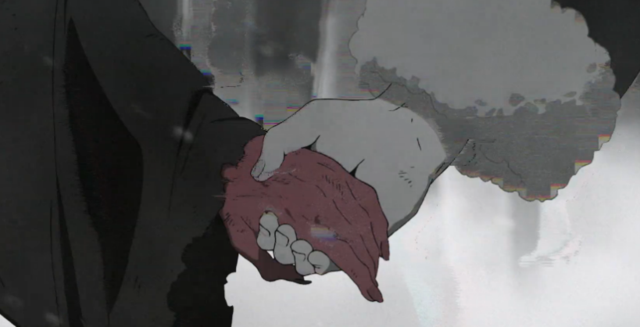 Like Kipling's story of the armadillos, Zero Two and Hiro's story doesn't just result in two characters changing or expanding upon who they are. They become entirely new things. We get plenty of visual cues for this, and the show even throws us some in-universe science to cover that. The two are growing more like each other. But becoming more like each other means not only becoming somewhat less like themselves, but also completely unlike anyone or anything else at all.
With the series finale in fairly close range, what that means for the pair, for Squad 13, and for the world of the series as a whole remains to be seen. After all, Squad 13 as an entity is already an anomaly in the world of the show. But the assumption under the radar has always been that Hiro and Zero Two will escape out into… whatever's out there… together. Because they've adapted to and with and alongside each other, they've become something completely new, and these two birds can only fly with each other.
Whether they'll thrive as two of something new, or if that difference will pull them down, we'll find out very soon.
—–
Kara Dennison is responsible for multiple webcomics, and is half the creative team behind the OEL light novel series Owl's Flower. She blogs at karadennison.com and tweets @RubyCosmos. Her next book, Black Archive #21 – Heaven Sent, is currently available for preorder from Obverse Books.